James Hare is Britains oldest manufacturer of fine silk, spanning over 150 years of service to fashion and interior designers across the world. The company were in need of a new responsive website to support their growing customer base and was representative of the quality of their products and service. It was started from scratch, with thorough research into the industry and competitors to see what users would require and what would be a successful experience for them.
With luxury interiors & fashion markets as the target, visual quality was key to ensure the brand felt in-line with competitors.
Defining the Right Experience for Users
As the website was going to be built from scratch, there was the opportunity to consider the user types and what their core needs would be for this site to be useful to them. There were two user groups identified: Trade & Consumers. The primary focus was on the Trade customers as the aim was to increase the number of stockists and allow them to have a good experience with the James Hare brand. The four identified user types were defined, with the features they would want and flows mapped out to show how pages on the site should sit together, and how content should appear and be used.
Site Architecture & Wireframing
From research it became clear what pages and structure was needed to present the fabric collections in a logical way, while keeping it simple for the users. A full restructure of the site architecture was done to pull out unnecessary pages and create a much simpler experience in allowing users to get to where they wanted within just a few clicks. Page types were defined and wireframed. These were built up in a modular format to create a consistent experience and navigation across the site as a whole.
Product Audit & New Functionality
Allowing users to engage with the fabrics and get immersed in the collections was a key focus in the new website. Research clearly defined areas where features needed to be improved and innovated. New functionality was added in both the back-end and user-facing site. All 1500+ products went through audit and were given new tags for a better and more robust filtering system in the browsing experience. Image product-tagging was added to allow JH admin to tag images with product swatches, so users could see these easily, add to their in-site moodboards and purchase. An entire 'Inspire' section was also launched to push this functionality and get users engaged with the brand on a more regular basis.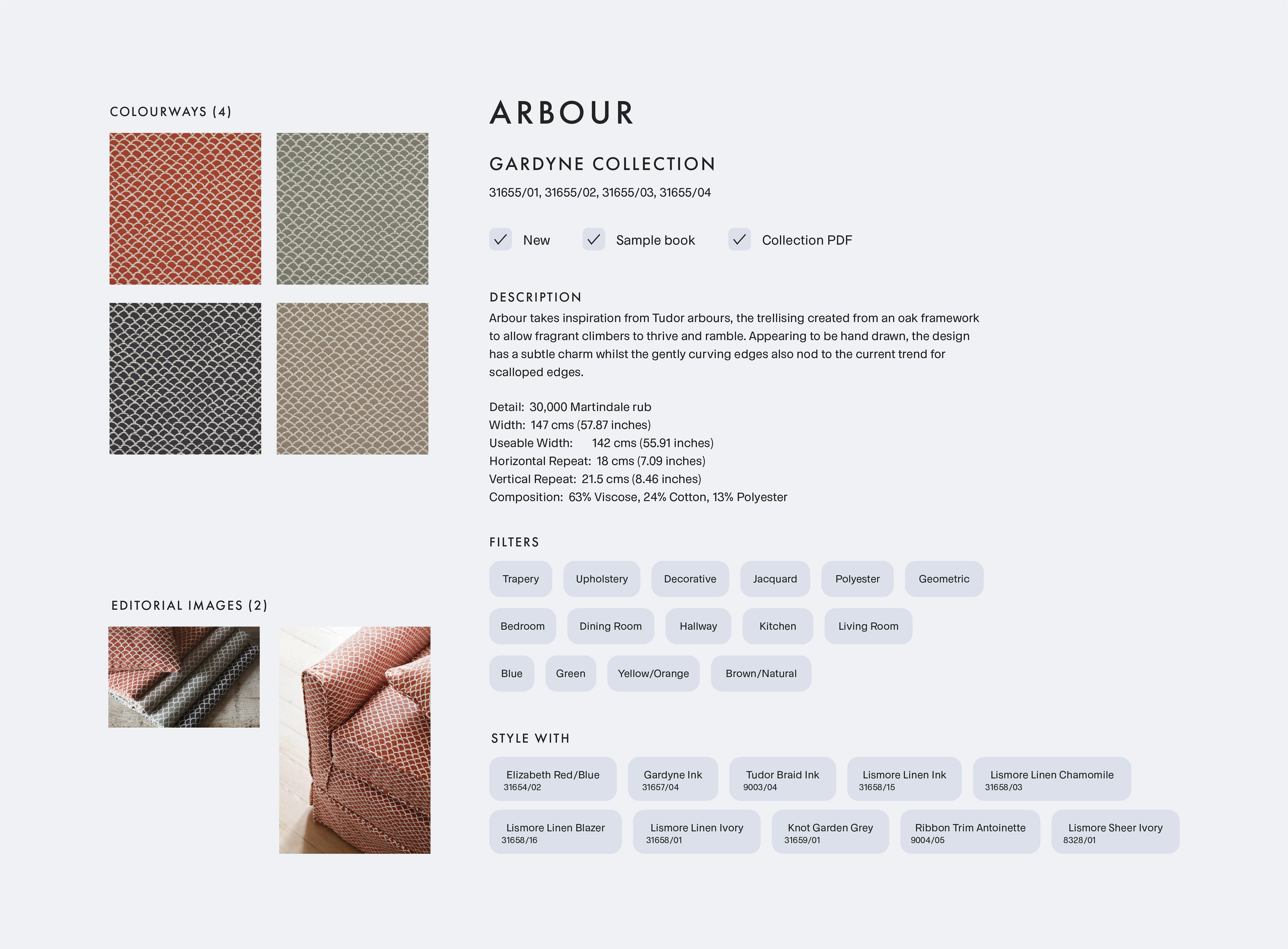 Design Direction
Part of the website update included a look into the James Hare brand and how this could be successfully executed digitally. New fonts were chosen and a new visual direction was created. With a large amount of photography, a very visual approach was taken to the site, putting these to the forefront and supporting with simple, crafted typography.