Barkers, established in 1882, is two well known stores located in Northallerton, North Yorkshire.

With two successful stores in the centre of the town - a department store, and a separate home store - an identity update and complete digital restructure and redesign was required to bring the brand up to date, while celebrating the heritage and rich history.
Website overhaul
The existing websites for each store had no consistency and were worlds apart in design, structure and navigation. A full audit of each site was done to understand what each store had to offer, as well as what the primary experience should be on each site, and research into competitors and the market in general. A key aim was to create consistency across both sites so it felt very much like one brand. The entire structure and hierarchy was redesigned, with page types defined to ensure users could explore the vast content while being able to get to where they needed to within a few clicks. This included creating 'hubs' for product areas, allowing easy brand searching and having general information pages across both sites.
Creating a website design system
The Barkers team wanted to have the ability to update and refresh the site with new products, brands or offers on a regular basis. This led to the decision to create the site in a modular format where different module types and formats were defined and the main content pages were set up in a way where these could be added in any order, moved around, duplicated, and amended at any time. Custom sale banners and tags were also added in so these could be applied by brand, product section, department or cross-site, and could be styled up to suit the sale type. Styles, dimensions, sizing and the responsive nature of these were defined in code so it meant maximum flexibility, but ran very little risk of visual inconsistencies.
Design review & update
With two new websites being developed, a consistent look was wanted across them both. After some research and exploration a very simple and clean look was decided upon, with an uppercase used for all titles to give a modern feel. A very visual approach was taken to put across the diverse offering of products. Modules were simple layouts consisting of imagery, amble spacing and crafted typography. Spacing throughout the site was made consistent, giving breathing room to pages but not making them too long to scroll through. Brand logos were also integrated throughout and work was done to ensure these always sized well next to one another, no matter dimensions and style.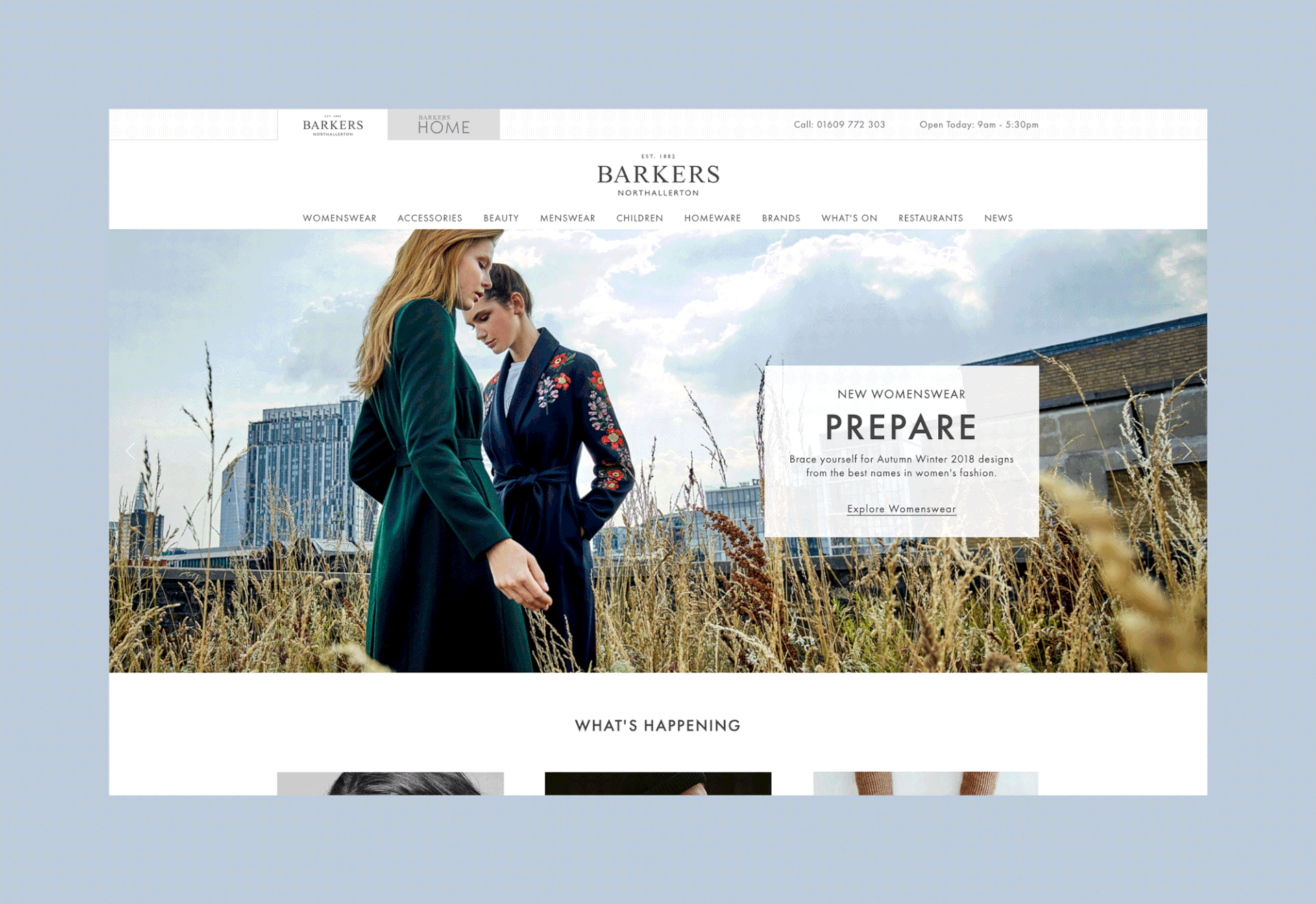 Brand refresh
Alongside the work on the website, there was also work into reviewing the current logos and giving them a bit of an update to clean things up and add a bit more diversity to the brand assets. This included resetting the letters and kerning, adding sub-lines and including a brand stamp which uses the well-known 'Barkers Clock'. This was run across new bags and brand materials throughout the stores. It was also clear that with two vast new websites, there would need to be in-store imagery.
Building a Photography Style
New photography was commissioned to get a large archive of shots from across all departments in both store, the restaurants and location in general to give some context to the website and create a 'Barkers feel' so there wasn't such a reliance on brand imagery. It was also agreed to create a product still-life style which could be replicated each season, displaying the different departments and to allow the Barkers team to have editorial control over visuals on the site.
Completed at Agency Forty.